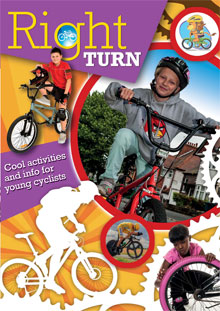 Right Turn
'Right Turn' is aimed at cyclists aged between 10 – 13 years old and covers the content of Level 2 Bikeability.
It gives children the opportunity to explore such themes as manoeuvres, road signs, maintenance and route planning.  A strong safety emphasis features throughout.
---
Price:
47p per magazine
42p each for 4,000 copies or more
Right Turn Answers
Click here to download PDF that contains the answers to all questions in 'Right Turn'.